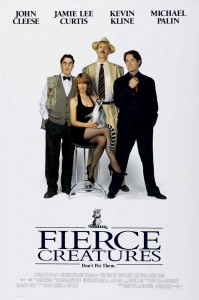 Genre: Comedy
Director: Robert Young, Fred Schepisi
Screenwriter: John Cleese, Iain Johnstone
Rating: 53%
Year: 1997
Length: 1h 33m
Summary: The staff of a small zoo try to avoid it being shut down after it gets bought by a ruthless media tycoon.
Main Actors:  John Cleese, Jamie Lee Curtis, Kevin Kline, Michael Palin, Carey Lowell, Robert Lindsay
Nice Bits
This film showcases the same four comic geniuses of A Fish Called Wanda, and although the critics weren't nearly as impressed, it remains one of my favourites.
Kevin Kline plays another extremely stupid person brilliantly, and in a totally different manner to his Oscar winning performance in the first film. Utterly hilarious, he's always a joy to watch on screen. If only he'd make more comedies these days!
He also plays his own father, and the scenes between them are a riot, especially as his father is a heartless media tycoon a la Rupert Murdoch, while his son is a spineless immature nonentity. The contrast is beautifully played.
It's also sad and almost pathetic watching him keep trying to earn his father's love.
Jamie Lee Curtis plays yet another confident, sexy, capable woman, and John Cleese once more is her romantic foil. While his character is devoid of sex appeal, for some reason (no spoiler!) JLC sees him as a huge catch. The film is worth watching for this dynamic alone!
Another delightful aspect is that Michael Palin, having been a stuttering near mute in the previous film, goes completely over the top as the local know it all who can't keep his mouth shut, even when asked politely. Again and again.
There are so many treasures in the film, so if you like any of the main actors, don't miss it!
Nasty Bits
Some simulated violence, one shooting.
Naughty Bits
A lot of sexual references, all done in the best possible taste. Mostly.
Cast and Crew: http://www.imdb.com/title/tt0119115/fullcredits
Trailer: https://www.youtube.com/watch?v=czscHMEJZuk