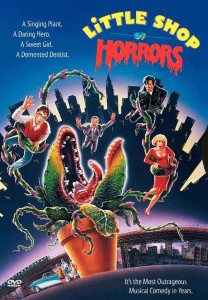 Genre: Comedy Scifi Musical
Director: Frank Oz
Screenwriter: Alan Menken, Howard Ashman
Rating: 90%
Year: 1986
Length: 1h 34m
Summary: a shy shop assistant discovers a plant from outer space that can only survive on human blood.
Main Actors: Rick Moranis, Ellen Greene, Vincent Gardenia, Steve Martin, Levi Stubbs, Bill Murray
Nice Bits
This timeless horror comedy is full of wonderful songs, and manages to get the balance just right. No, that's not true: the horror is very tame, and deliberately so. In spite of some pretty nasty things happening, the whole thing is a delight from start to finish.
There are a few hilarious cameos, especially Bill Murray and Steve Martin, but please note: this is NOT the version in which Jack Nicholson made his screen debut. That was the far less entertaining black and white 1960s version made on a shoestring.
The two leads are so sweet and sympathetic as underdogs, and it's hard not to cheer them on, even though rather unpleasant things keep happening. This is very much a film with a soft heart, on top of which is carefully laid the comedy and music.
This production originally reproduced the ending from the stage musical, where the plant wins and the heroes die. However, test film audiences hated that ending, so they reshot it at great expense, where our heroes manage to survive, in spite of everything. Luckily, both versions are now available to view, to decide for yourself which is better.
I very much prefer the happy ending, because I'm a softie, but the original is well worth seeing as well, largely for the sheer scale on which the plants manage to take over!
Nasty Bits
A couple of deaths, and a body get chopped up, but all in a comical manner.
Trailer: https://www.youtube.com/watch?v=jFENSU8CmZk
Reviews: http://www.rottentomatoes.com/m/1012515-little_shop_of_horrors/