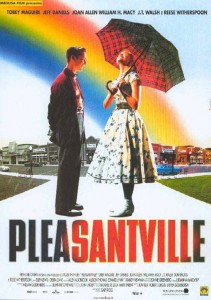 Genre: Drama Fantasy Comedy
Director: Gary Ross
Screenwriter: Gary Ross
Rating: 86%
Year: 1998
Length: 2h 5m
Summary: Two teenagers get sucked into an idealistic 50s TV show, and accidentally change their world.
Main Actors: Tobey Maguire, Jeff Daniels, Joan Allen
William H. Macy, J. T. Walsh, Reese Witherspoon
Nice Bits
This delightful fantasy explores the idealisation of the good old days, to see whether they really were that good. But that sounds boring, and this film is anything but boring!
The fine folk in the black and white TV show find that their pleasant world gets gently rocked by other emotions, by other experiences, and along the way they grow up to discover a world coloured by nuance, instead of simple black and white.
Numerous characters start out as stereotypes or cliches, and discover they have hidden depths, as they are inadvertently challenged by the arrival of the teenage duo. These two in turn are surprised to find themselves teaching the TV folk at times.
There is much gentle humour to be had as both groups learn from each other, and just about everybody explores what they really want to do with their lives, instead of feeling compelled to continue doing what is expected of them.
It sounds preachy, but it's not. I find myself very touched by this tale, as so much suffering comes from people being forced into lives that don't work for them.
I keep returning to this film, as it always brings a smile to my face.
Nasty Bits
There's a short riot, some painful discrimination, but it all turns out well in the end.
Cast and Crew: http://www.imdb.com/title/tt0120789/fullcredits
Trailer: https://www.youtube.com/watch?v=nrEAfkY9ods