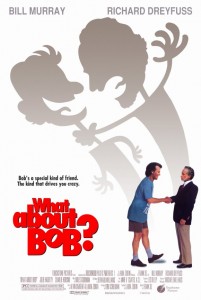 Genre: Comedy
Director: Frank Oz
Screenwriter: Tom Schulman
Rating: 82%
Year: 1991
Length: 1h 39m
Summary: A neurotic patient follows his psychologist on holiday, and nearly drives him round the twist.
Main Actors: Bill Murray, Richard Dreyfuss
Nice Bits
Bill Murray plays this role to perfection, trying to get relief from his various mental issues, while Richard Dreyfuss plays it straight, trying to appear the consummate professional, all the time getting more and more upset about Bill's behaviour.
Much of the fun comes from Bill's character being (mostly) innocent and sweet, and although the good Doctor wants nothing to do with him while on vacation, his own family falls for Bill. This just makes the shrink even more upset!
On top of this, the shrink's new book is being released, and the last thing he needs is for Bill to be around when the TV cameras visit.
His family begin to wonder who's the crazy one, as they enjoy getting to know Bill, and can't understand why the shrink wants to get rid of him so quickly.
Bill Murray has 4 brilliant comedies, and this is one of them. Well worth rewatching often!
Nasty Bits
Richard Dreyfuss gets more and more angry, sometimes screaming loudly.
Cast and Crew: http://www.imdb.com/title/tt0103241/fullcredits
Trailer: https://www.youtube.com/watch?v=ptmP1lziJw4