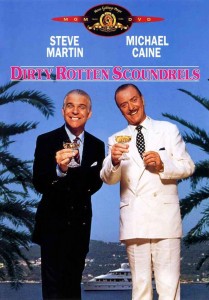 Genre: Comedy
Director: Frank Oz
Screenwriters: Dale Launer, Stanley Shapiro, Paul Henning
Rating: 88%
Year: 1988
Length: 1h 52m
Summary: Two conmen who live off women battle it out for the right to a work a wealthy Riviera town.
Main Actors: Steve Martin, Michael Caine, Glenne Headly
Nice Bits
Two men who cheat rich women for a living are somehow made hilarious by two top comedy actors. They play totally opposite characters, which creates much of the comedy.
Steve Martin plays his usual over the top vulgar American with great effect, while Michael Caine's polite genteel Englishman offers a lovely contrast, playing it straight. Watching their varied approaches to finding and conning women is just delightful!
But don't feel sorry for the women, as they're not all quite as helpless as they seem.
Nasty Bits
Nothing to report.
Cast and Crew: http://www.imdb.com/title/tt0095031/fullcredits
Trailer: https://www.youtube.com/watch?v=0ke-v0e3Cd4
Reviews: http://www.rottentomatoes.com/m/dirty_rotten_scoundrels