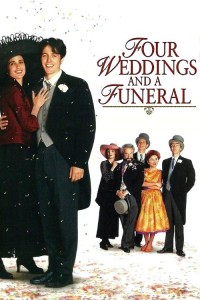 Genre: Romance Comedy
Director: Mike Newell
Screenwriter: Richard Curtis
Rating: 95%
Year: 1994
Length: 1h 56m
Summary: a shy Englishman falls for a pretty American woman, whom he only meets at weddings and funerals.
Main Actors: Hugh Grant, Andie MacDowell, James Fleet, Simon Callow, John Hannah, Kristin Scott Thomas
Nice Bits
This lovely tale follows a group of British friends, mostly eccentric in their own ways, as they navigate various formal events. There's some lovely contrast between English and American attitudes, and how they often fail to connect with each other.
This film was probably the break out role for Hugh Grant, although I'm not sure if he's acting or just being himself. Either way, he makes a good poster boy for typical British bumbling indecisiveness. Even so, his self depreciating humour is thoroughly enjoyable.
This style of film is often predictable, and although the ending is hardly surprising, it does have a nice twist to surprise viewers. Ultimately, it's a life affirming film that once again celebrates love. That might not be original, but it's certainly worthwhile, in my opinion.
Nasty Bits
The funeral might upset some.
Naughty Bits
None
Cast and Crew: http://www.imdb.com/title/tt0109831/fullcredits
Trailer: https://www.youtube.com/watch?v=g-HeV8Z6iXc
Reviews: https://www.rottentomatoes.com/m/four_weddings_and_a_funeral/