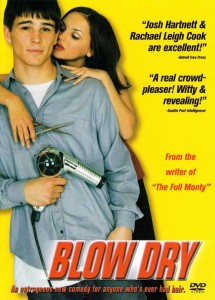 Genre: Comedy Drama
Director: Paddy Breathnach
Screenwriter: Simon Beaufoy
Rating: 19%
Year: 2001
Length: 1h 31m
Summary: A separated family of hair dressers reunite when the British Championships come to town.
Main Actors: Alan Rickman, Natasha Richardson, Rachel Griffiths, Bill Nighy, Heidi Klum

Nice Bits
I never thought I'd want to watch a film about competitive hair dressing. What a surprise!
The critics really got this one wrong, perhaps because designers put two minor characters on the poster instead of the older main characters: the always superb Bill Nighy and Alan Rickman. The young audience probably wasn't impressed to see who the real stars were.
It's a shame, because the film is a wonderful combination of British humour and heart felt drama. It's a clever comedy, dealing on the surface with revenge and competition, but at its core, it's about relationships, forgiveness, and dealing with disappointment.
It also showcases a lesbian couple who aren't on screen for titillation, and have real depth and caring in their relationship. How their history relates to the other characters is one of the ongoing sometimes hilarious complications, bruising male egos along the way.
Sure, it's a little predictable, but I don't mind one bit, because the characters (well, except for the youngsters) are so well played, and they deal with their heart ache with quick humour, instead of getting down and depressed.
There's a sparkling witty rivalry between the lead males, and the two lead women very much hold their own as well. If you're a fan of smart clever British humour, don't miss it.
Nasty Bits
The lead female has cancer, which might upset some viewers. I found it beautifully portrayed, and it didn't affect my enjoyment of the film.
Naughty Bits

A little tasteful nudity.
Cast and Crew: http://www.imdb.com/title/tt0212380/fullcredits
Trailer: https://www.youtube.com/watch?v=q6yObNphIPE