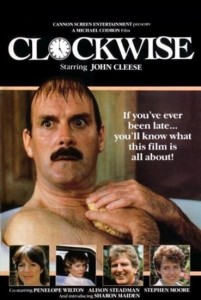 Genre: Comedy
Director:  Christopher Morahan
Screenwriter: Michael Frayn
Rating: None Yet
Year: 1986
Length: 1h 36m
Summary: A punctuality obsessed high school principle is running late for the most important event of his life.
Main Actors: John Cleese, Penelope Wilton, Alison Steadman, Stephen Moore
Nice Bits
From one simple idea comes an increasingly funny story, one of John Cleese's first successful films after the Pythons broke up. It's played totally straight, and I struggle not to crack up as he tries and fails to keep it together, while things get worse and worse.
Much of the humour comes from people assuming the wrong thing about what's happening, and our hero remains oblivious to most of it.
It brings back mixed memories from my time at school, and adds more humour when children are forced to behave like adults, and adults regress into childhood. This is definitely one of the best unknown comedies available!
Nasty Bits
None I can think of, it's very tame.
Naughty Bits
The closest this gets to naughty is a few seconds of John Cleese naked, although only his upper half is visible.
Cast and Crew: http://www.imdb.com/title/tt0090852/fullcredits
Trailer: https://www.youtube.com/watch?v=MLgRNIGUU_4