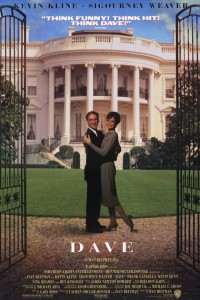 Genre: Comedy Romance
Director: Ivan Reitman
Screenwriter: Gary Ross
Rating: 95%
Year: 1993
Length: 1h 50m
Summary: a Presidential look alike has to pretend to be the President when the real one is laid low by a stroke.
Main Actors: Kevin Kline, Sigourney Weaver, Ben Kingsley, Ving Rhames
Nice Bits
I never thought I'd ever enjoy a film about politics, but this one is just so sweet, funny, and full of decency. Kevin Kline plays just the kind of man we'd all love to have running the country, when the real President has a stroke while having an affair.
While the President's handlers try to keep him under control, he decides that while in the White House, he could actually try to do some good. A hilarious struggle evolves, as they can't fire him without the public realising what's going on.
At the same time, the President's wife, who's been estranged from him for years, realises what's happened, and a beautiful connection develops between her and the imposter.
I found it incredibly moving to watch a decent man running the country, and somehow being able to do good for We the People. Kevin Kline plays it so beautifully, and with such honour and decency. Not to mention a sense of fun and play!
Maybe if more people saw this film, we'd attract the right kind of candidates into politics?
Nasty Bits
Apart from the film being set in the world of politics, I can't think of anything to mention.
Cast and Crew: http://www.imdb.com/title/tt0106673/fullcredits
Trailer: https://www.youtube.com/watch?v=PTTe-rxTyh0