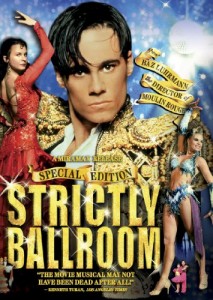 Genre: Romantic Comedy Dance
Director: Baz Luhrman
Screenwriters: Baz Luhrmann and Andrew Bovell
Rating: 95%
Year: 1992
Length: 1h 34m
Summary: A talented dancer risks losing it all by dancing his own steps, instead of doing what he's told.
Main Actors: Paul Mercurio, Tara Morice, Bill Hunter, Barry Otto. Pat Thomson
Nice Bits
This is the first film from the genius that is Baz Lurhman. It almost converted me to Latin dance on the spot, such is the passion and energy that the film displays. But that's only one of its attractions.
There's a wonderful ugly duckling story mixed in, along with a heartfelt tale about the struggle to follow your own path, instead of being tied down by tradition.
As much as I love Baz's work, I very much doubt he'll ever do better than this. Is that sad? Definitely not, as hardly anybody has ever made a film anywhere near as good as this.
A lovely thread running through the film is one character who's ignored and mistreated by everybody, but holds the key to the entire story. Profoundly moving!
I often cry while watching it, there are so many touching elements behind the riotous comedy and relentless drive towards the final showdown.
Sheer genius, in the top 5 feel good films ever made.
Nasty Bits
The worst you'll see here is a slap across the face, or the odd dramatic punch.
Cast and Crew: http://www.imdb.com/title/tt0105488/fullcredits
Trailer: https://www.youtube.com/watch?v=7dtfxf3FFx4
Reviews: http://www.rottentomatoes.com/m/1045568-strictly_ballroom/